About Oxford Parkour
Oxford Parkour is a community for Parkour practitionners, Free Runners and movers in Oxfordshire. Our goal is to make Parkour safe, accessible and easy to get into for anyone who wants to learn, as well as providing resources (and people to train with) for existing practitionners to better explore the fantastic architecture and movement possibilities provided by Oxford.
The vast majority of the people in our community joined as beginners, so we are very used to introducing people to our discipline! To help you get going, we run a variety of sessions throughout the year, from fully structured, 'class' like sessions, to the more unstructured, jam of training together to something in between. It's open to anybody, student or not.
What is Parkour?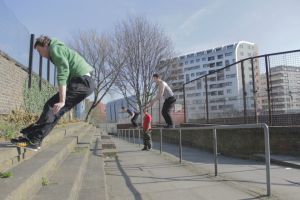 Parkour is quite a difficult thing to explain, and the best (and possibly only) way to understand what it is is experience. However, you're on this page because you want to know more about it, so I'll do my best.
Though it's often wrongly perceived as an extreme sport, at its core it is simply a discipline of movement: learning to move more freely and efficiently in an urban environment, improving our ability to overcome different obstacles, and increasing our capabilities of what we can do both physically and mentally. Although it is similar to gymnastics both in some of the movements and in the focus on improving your movement, it is also quite like a martial art in the training and purpose.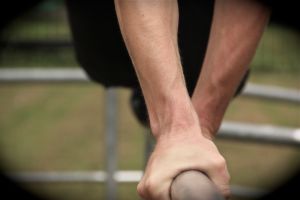 More simply, it's just about getting fit in a physically diverse and challenging way which is much more fun and interesting than just going to the gym.
Parkour is about movement, but it is also a concept; a mindset; a style of training; a way of thinking. It is quite a personal sport as because it is just a general idea of obstacle training there is no set list of moves (apart from a foundation set to work from) and everyone has a slightly different style, which can incorporate different perspectives on obstacles, personal strengths and backgrounds. It's non-competitive and is simply about challenging and improving yourself.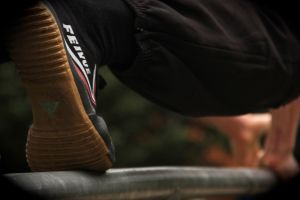 For this reason, it's open to anybody to try out, no matter how unfit or unsporty you are. Though it is easier if you are more athletic/stronger/etc, because it's just about improving yourself you can start from anywhere.
Parkour was developed as a concept by a group of teenagers in France around 20 years ago, though this is only the modern version of the discipline (given that the point of it is to move back to more natural, instinctive movement). When it was introduced into the world stage (largely via London) it was given an English equivalent term - 'freerunning'. Though it was originally meant to be the same as parkour, some people consider freerunning to be a adaptation of parkour which adds in more of a show element, though for the purposes of this group I'm treating them as the same.
If you're interested in trying it out then join in, or if you'd like to find out more about it, there's a lot of information on the internet about it (though I would recommend the parkourgenerations website, www.parkourgenerations.com).